The most popular Christmas carol in the world, Silent Night, had a most unlikely author.  Joseph Mohr was his mother's third illegitimate child. His life was so full of stigma that little Joseph was banned from attending school or learning a trade. But the boy loved to sing. While playing on steps leading up to a monastery, he was overheard singing by the monk who was the cathedral choirmaster. He thought the boy's voice was so good that he could not bear to see it wasted. He arranged for him to study with his students. The boy proved to be an outstanding pupil and mastered the organ, violin and guitar by the time he was twelve. He was ordained a priest at age 23.
The composer of the carol's tune, Franz Gruber was also born in poverty and showed musical talent early. His father, a linen weaver, discouraged his study of music so he studied the violin secretly. Through his life he held positions as organist and choir director in various parishes, as well as serving as a schoolteacher and then headmaster.
When Mohr was 26 and Gruber 31,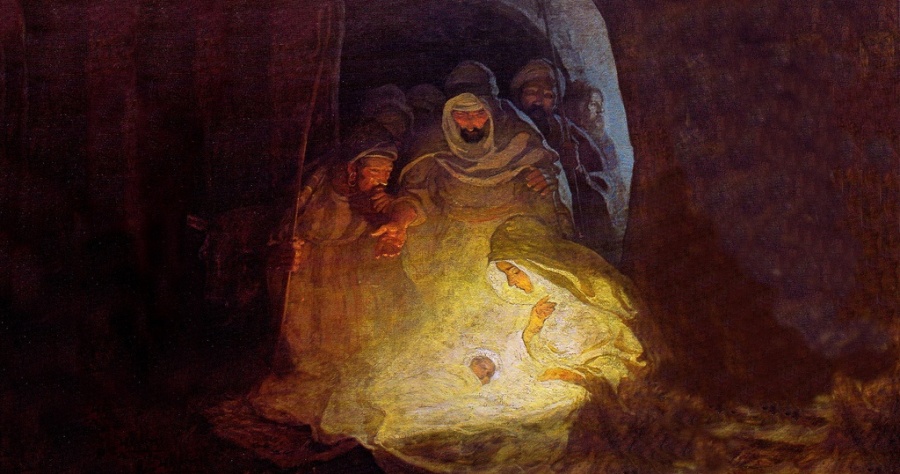 in December 1818, at St. Nicholas Church in Oberndorf, Austria, they together gave the gift of "Silent Night" to the world.
Silent night, holy night,
All is calm, all is bright
Round yon virgin mother and child.
Holy infant, so tender and mild,
Sleep in heavenly peace,
Sleep in heavenly peace.
The traditional story of its origin is that Mohr, the assistant pastor of the church in Oberndorf, and Franz Gruber, the organist there, wrote the carol on Christmas Eve in 1818 when they discovered the church organ was damaged. (Different versions say it rusted out, or mice chewed through vital parts.) Charming as that story is, it is fiction.
Years later, on December 30, 1854, Gruber wrote the following:
On December 24th in the year 1818 the curate of the newly erected parish-church St. Nicola of Oberndorf, Mr. Joseph Mohr handed over a poem to the deputy organist, Franz Gruber … with the request to compose a suitable melody for two solo voices with choir and the accompaniment of one guitar.
Gruber did so, and the carol was first performed at the midnight mass on Christmas Eve, 1818. Mohr sang the tenor part, Gruber sang the bass, and the church choir did the refrains of each verse, which consisted of the last two lines of the verse. Mohr played the guitar accompaniment. It was said to have been enthusiastically received by the congregation.
Later Franz Gruber, son of the composer, wrote this in a letter:
"During the time when my father was the organist of the church of St Nikola, there was a very poor almost unusable organ there. This may well explain why the Reverend Mohr preferred to accompany the carol on a well-tuned guitar than on an off-pitch organ."
Source: www.hymnsandcarolsofchristmas.com and interactingwithjesus.org/blog
---
The words of O little Town of Bethlehem were penned by Phillips Brooks, rector of the Church of the Holy Trinity, in Philadelphia.
While on a vacation traveling through Europe and the East, Brooks described this experience in a letter home during Christmas week of 1865:
"After an early dinner, we took our horses and rode to Bethlehem. It was only about two hours when we came to the town, situated on an eastern ridge of a range of hills… It is a good-looking town, better built than any other we have seen in Palestine. … Before dark, we rode out of town to the field where they say the shepherds saw the star. … As we passed, the shepherds were still keeping watch over their flocks or leading them home to fold."
Three years later, in 1868,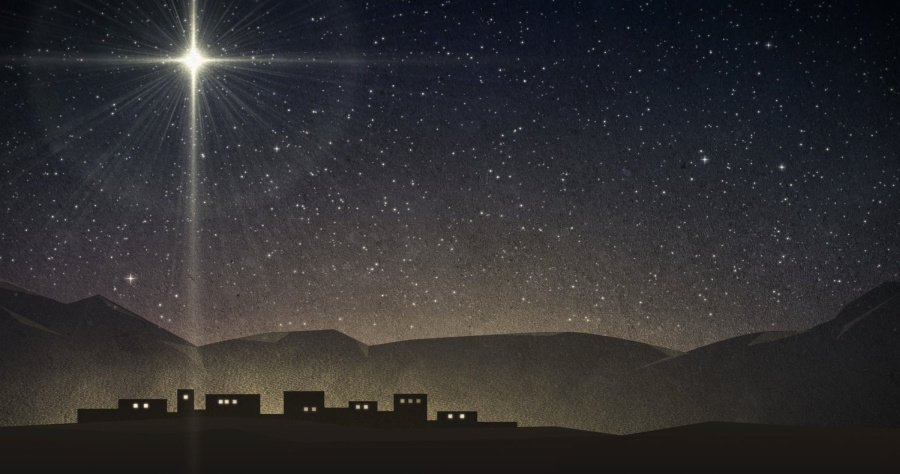 while meditating at home over what he had seen, the words of the carol took shape in his mind.
O little town of Bethlehem,
How still we see thee lie;
Above thy deep and dreamless sleep
The silent stars go by.
Yet in thy dark streets shineth
The everlasting light;
The hopes and fears of all the years
Are met in thee tonight.
A share of the credit for the popularity of the carol must also be given to the one who wrote the tune. Lewis Henry Redner, a real estate agent, was organist of the church that Brooks pastored, superintendent of its mission, and teacher in the church school. He later was coaxed to tell the story of the tune:
As Christmas of 1868 approached, Mr. Brooks told me that he had written a simple little carol for the Christmas Sunday-school service, and he asked me to write the tune to it. … We were to practice it on the following Sunday. Mr. Brooks came to me on Friday, and said, "Redner, have you ground out that music yet to 'O Little Town of Bethlehem'?" I replied, "No," but that he should have it by Sunday. On [Saturday night] my brain was all confused about the tune. I thought more about my Sunday-school lesson than I did about the music. But I was roused from sleep late in the night hearing an angel-strain whispering in my ear, and seizing a piece of music paper I jotted down the treble of the tune as we now have it, and on Sunday morning before going to church I filled in the harmony. Neither Mr. Brooks nor I ever thought the carol or the music to it would live beyond that Christmas of 1868.
Someone who heard the song owned a bookstore and printed it on leaflets for sale. Six years later it was printed in a Sunday-school hymn and tune book. The rest is history!
Source: www.hymnsandcarolsofchristmas.com
---
God Rest You Merry, Gentlemen is among the most popular of carols. Several music historians have noted that each English village seems to possess its own variation of this carol. John Camden Hotten in Christmas Carols, Ancient and Modern (1905) wrote: "With regard to the text of this carol I may remark that nearly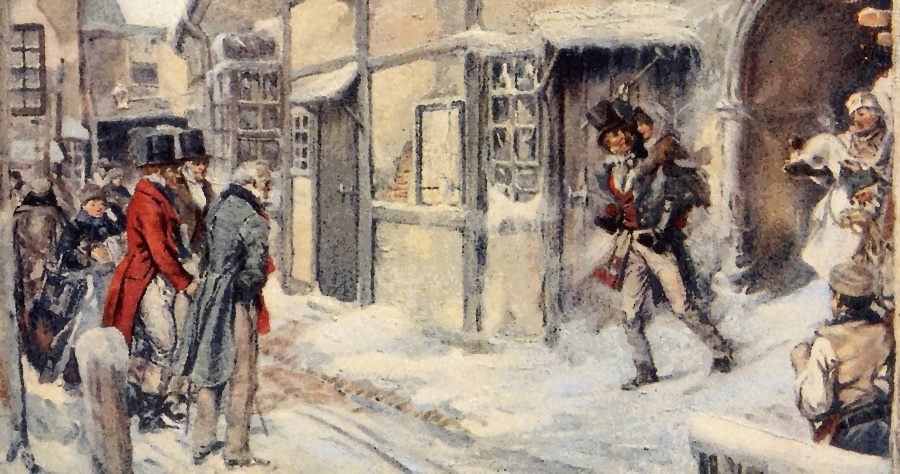 every town in England, at each succeeding Christmas, supplies us with variations."
God rest ye merry, gentlemen
Let nothing you dismay
Remember, Christ, our Saviour
Was born on Christmas day
To save us all from Satan's power
When we were gone astray
O tidings of comfort and joy,
Comfort and joy
O tidings of comfort and joy
The carol is dotted with archaic words and phrases hard to understand—which comes as no surprise, considering that it probably originated in the 16th century. For instance, the first phrase and title: God Rest You Merry, Gentlemen. (Note the comma—it's not "God rest you, merry gentlemen" but "God rest you merry, gentlemen.") What is the meaning of "rest you merry"? That and similar phrases are found in half a dozen of Shakespeare's plays. One Shakespearean scholar wrote that the phrase "was a common form of farewell … equivalent to 'good luck to you.'" So the sentence, then, could be recast as "God give you peace and joy and everything good, dear gentle ones."
Perhaps this song's most notable distinction is that this carol is the Christmas carol of A Christmas Carol.
Charles Dickens wrote in his classic short story:
Foggier yet, and colder! Piercing, searching, biting cold. … The owner of one scant young nose, gnawed and mumbled by the hungry cold as bones are gnawed by dogs, stooped down at Scrooge's keyhole to regale him with a Christmas carol: but at the first sound of —
"God bless you merry gentleman! May nothing you dismay!"
Scrooge seized the ruler with such energy of action, that the singer fled in terror, leaving the keyhole to the fog and even more congenial frost."
Ebenezer could have saved himself quite an adventurous night—if only he had heeded these words when he first heard them!