Songs have a lot of power. And so we often have music playing as we go throughout our day. Many of us assemble playlists and collections of music.
When we are able to sing a song, it takes on even more power. (More of us can sing that we might think: several minutes into this video, watch 95,000 Liverpool 'football' fans singing!) When we sing, our whole being is now involved in that song. The words begin to fill our mind; the mood created by the tune begins to seep into our emotions; the song's rhythm and the movement of our lungs and voice engage our body. Every part of us is involved as we bring forth this song!
When the song is of God and we let its spirit and message permeate us, we are moved to be more holy and true. And through our voice, those who hear us become aware of its truth, and perhaps more gripped by the goodness, grace, and greatness of our Lord. Scripture again and again calls us to sing, to "burst into jubilant song" for our Lord and King (Psalm 98:4,6), to let the message of Christ fill our lives "through psalms, hymns, and songs from the Spirit" (Colossians 3:16).
Our songs take on even more power when we sing them as part of a congregation.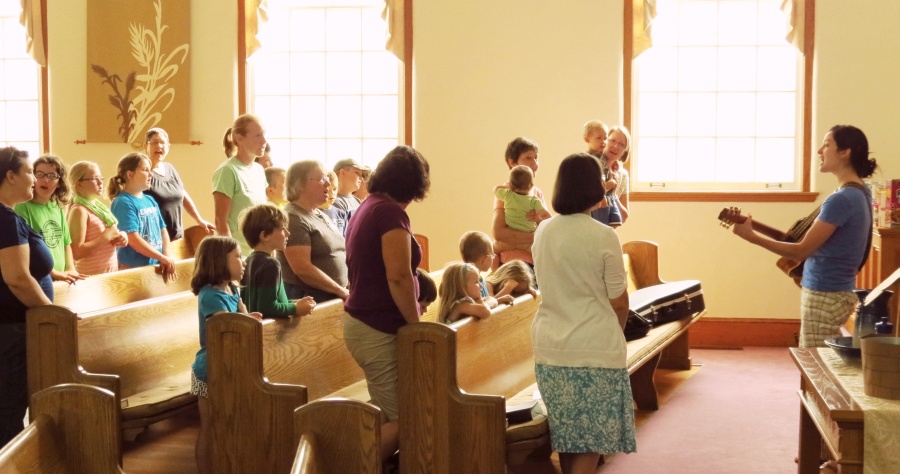 As I hear my brother and sister singing out with faith and joy, some of their spirit often rubs off on me and a new fervor builds in my singing—which in turn rubs off on them in a glorious gathering crescendo as we praise and worship our God with full throats and hearts! Even those of us who are "musically challenged" can find ourselves moved.
I delight in being here at Trissels where four-part harmony can be clearly heard. And I find joy in the many hymns we sing that are full of truths about God and our faith, and the occasional contemporary song chosen for its message.
This Sunday we at Trissels get to devote additional time to singing—it's a fifth Sunday hymn sing. (It won't be all singing; our worship committee works to plan other elements as well.) I look forward to experiencing some crescendos in our faith and joy as we sing the favorites that one after another of us will request.