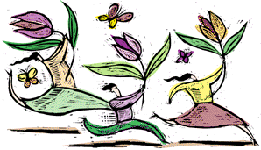 GayMatter - Thoughts on the same-sex issue

---
Blogs/articles for church papers — succinct statements getting to the heart of the matter:

Two calls to heed
Both ends of the spectrum need to face something difficult. (June 23, 2014 TMail article)

Formed by culture?
What moves us toward same-sex marriage — the Spirit and Word, or society? (Feb 2, 2015 MWR)

A reason for full inclusion—or not
Is the argument from experience able to bear the weight placed on it? (Mar 27, 2017 MWR; and Mar 2017 The Mennonite)

Listening and responding to voices of inclusion
Simple observations on arguments for same-sex partnerships and on the witness of Scripture. (Article in MC USA's "Biblical and theological resources on sexual and gender identity")
On arguments for full inclusion of those in same-sex partnerships
On the biblical witness concerning same-sex sex
On attempts to deflect the Biblical witness

An unexpected pattern brings clarity
Indepth look at the basis — and implications — of a stat often mentioned on this site.

Abbreviated version of the preceding two articles (with a l-o-n-g comment stream):
A right that is wrong
As acceptance of gay partnerships grows, the church holds a different standard. (June 24, 2013 MWR)

What about divorce?
Does the church have a double-standard, treating divorce differently than homosexuality?


---

Sermon - preached June 3, 2012 at Trissels Mennonite Church, Broadway VA
"Hear the Spirit on same-sex unions"


---

Bible studies - prepared for 2016 Mennonite Pastors Bible Study

1 Corinthians 6:9-11 - A strong understanding

Romans 1:18-32 - Interpretations I have met


---

Various statements mainly pertaining to Mennonite Church USA:
Blogs written for my congregation or conference:

Gentle strategies for MC USA [2006]
Where our denomination is on the "h-issue" [as of 2006], and what should happen next.
---

Other writing which impacted me:

A possible celibacy – Excerpt from Wesley Hill, Washed and Waiting.
A robust and vital faith in the Christian story can help us picture celibacy as attainable.

Consistent Sexual Sacrifice
Everyone — straight and gay — must be invited to walk a countercultural way, the way of Jesus. Article by Kevin A. Miller.

Summary of Holben's "Six Representative Viewpoints"
Holben gives us a common vocabulary or shorthand as we describe our stance on this issue

Richard B. Hays' story of Gary
This friendship shaped Hays' stance on homosexuality

Willard Swartley's list of scholars
These scholars say that the biblical texts speak against loving, committed same-sex relations and not just promiscuous, idolatrous, abusive ones

Summary of What Is Marriage? by Sherif Girgis, Ryan T. Anderson and Robert P. George
This 2013 Supreme Court Amici Curiae Brief gives reasons from social science and public interest for recognizing marriage as a conjugal relationship (which only a man and woman can form) rather than a mere emotional union that any two (or more) adults can form.


---